What's Revenge (w/filmmaker Q&A) — 10:30 PM
Event Navigation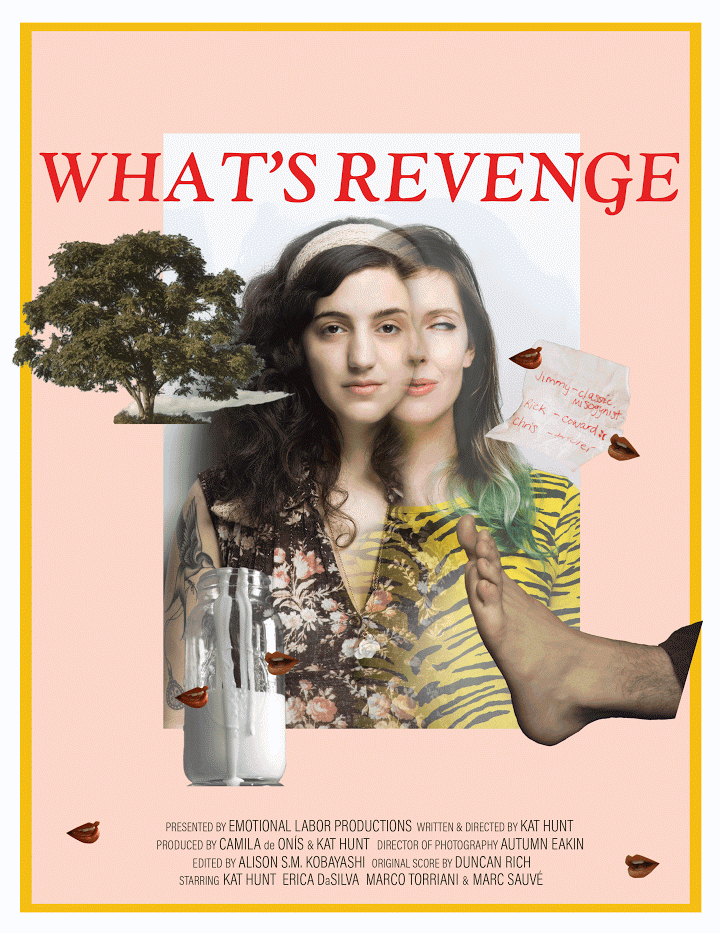 Ticket Price: $5
Times: 10:30 PM
Followed by a Q&A with writer/director/co-star Kat Hunt.
51min | 2016
Director: Kat Hunt
Written by: Kat Hunt, Cait Lord, Manuel Moreno, Erica DaSilva
Cinematography: Autumn Eakin
Music by: Duncan Rich
Editing: Alison S.M. Kobayashi
Starring: Kat Hunt, Erica DaSilva, Marco Torriani
Underdog Award A.K.A. Does More With Less Award – Eastern Oregon FF
Best Comedy Feature – Middle Coast FF
An innovative docu-fiction work, WHAT'S REVENGE, adapts elements from 70's pulp revenge cinema to address the problems and pitfalls of relationships in the modern age. The film uses a blend of staged reenactments of real events and fictionalized scenarios inspired by the lived experiences of the cast and crew. A feminist piece of genre-bending film, made by a primarily female production team, Hunt plays the chief provocateur in a story of two friends seeking to explain the reason behind the injustices inflicted upon them by the men in their lives. Hunt's character makes a personal mission of revisiting these indignities upon "the men" in question, on a mission to take their power back in the process. By using non-actors and their stories throughout, Hunt crafts a complex and comedic take on relationships and filmmaking.