WHAT'S HAPPENING THIS MONTH
It's 2017! We're kicking off the year with some of our favorite films about artificial intelligence. We may not have flying cars or robot butlers but we have Westworld, replicants and Wall-E. In week 2 we are running a retrospective of Martin Scorsese's long and varied career, from Who's That Knocking At My Door (1967) to the film that finally won him his Oscar, The Departed (2006). Then we have our first ever Syndicated Staff Picks! We've asked our entire staff to name their all-time favorites and the films in week 3 are what they came up with. And last but not least, it's time to revisit the world of our favorite boy wizard, Harry Potter. That's right, we're showing every single Potter film in order 1/23 – 1/29.

The Terminator (1:00 PM, 7:15 PM)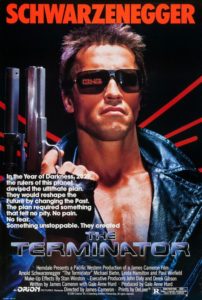 Ticket Price: $3
Times: 1:00 PM, 7:15 PM
R | 1h 47min | 1984
Director: James Cameron
Starring: Arnold Schwarzenegger, Linda Hamilton, Michael Biehn
A Cyborg has been sent from the future on a deadly mission, it has been programmed to kill a young woman named Sarah Connor. Sarah has no idea that her life will have a staggering effect on the fate of mankind and that she is in danger of being killed at the hands of an inescapable machine known as the Terminator. Kyle Reese has also been sent from the future, but his mission is to protect the unknowing mother of a future leader. Is there any way to stop the death of an innocent when the relentless Cyborg is set on his course.