WHAT'S HAPPENING THIS MONTH
It's 2017! We're kicking off the year with some of our favorite films about artificial intelligence. We may not have flying cars or robot butlers but we have Westworld, replicants and Wall-E. In week 2 we are running a retrospective of Martin Scorsese's long and varied career, from Who's That Knocking At My Door (1967) to the film that finally won him his Oscar, The Departed (2006). Then we have our first ever Syndicated Staff Picks! We've asked our entire staff to name their all-time favorites and the films in week 3 are what they came up with. And last but not least, it's time to revisit the world of our favorite boy wizard, Harry Potter. That's right, we're showing every single Potter film in order 1/23 – 1/29.

The Mighty Ducks (8:25 PM)
Event Navigation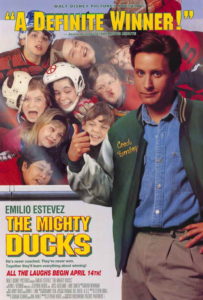 Ticket Price: $3
Times: 8:25 PM
PG | 1h 40min | 1992
Director: Stephen Herek
Starring: Emilio Estevez, Joss Ackland, Lane Smith
By helping Santa Claus with a Christmas crisis, Scott finds he's inadvertently After reckless young lawyer Gordon Bombay (Emilio Estevez) gets arrested for drunk driving, he must coach a kids hockey team for his community service. Gordon has experience on the ice, but isn't eager to return to hockey, a point hit home by his tense dealings with his own former coach, Jack Reilly (Lane Smith). The reluctant Gordon eventually grows to appreciate his team, which includes promising young Charlie Conway (Joshua Jackson), and leads them to take on Reilly's tough players.