WHAT'S HAPPENING THIS MONTH
It's 2017! We're kicking off the year with some of our favorite films about artificial intelligence. We may not have flying cars or robot butlers but we have Westworld, replicants and Wall-E. In week 2 we are running a retrospective of Martin Scorsese's long and varied career, from Who's That Knocking At My Door (1967) to the film that finally won him his Oscar, The Departed (2006). Then we have our first ever Syndicated Staff Picks! We've asked our entire staff to name their all-time favorites and the films in week 3 are what they came up with. And last but not least, it's time to revisit the world of our favorite boy wizard, Harry Potter. That's right, we're showing every single Potter film in order 1/23 – 1/29.

Spirited Away (7:00 PM, 9:45 PM)
Event Navigation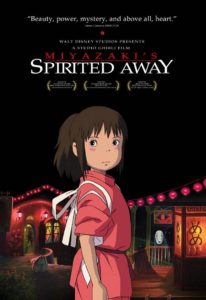 Ticket Price: $3
Times: 7:00 PM, 9:45 PM
PG | 2h 5min | 2001
Director: Hayao Miyazaki
Starring: Daveigh Chase, Suzanne Pleshette, Miyu Irino
Language: Japanese with English Subtitles
In this animated feature by noted Japanese director Hayao Miyazaki, 10-year-old Chihiro (Rumi Hiiragi) and her parents (Takashi Naitô, Yasuko Sawaguchi) stumble upon a seemingly abandoned amusement park. After her mother and father are turned into giant pigs, Chihiro meets the mysterious Haku (Miyu Irino), who explains that the park is a resort for supernatural beings who need a break from their time spent in the earthly realm, and that she must work there to free herself and her parents.