WHAT'S HAPPENING THIS MONTH
It's 2017! We're kicking off the year with some of our favorite films about artificial intelligence. We may not have flying cars or robot butlers but we have Westworld, replicants and Wall-E. In week 2 we are running a retrospective of Martin Scorsese's long and varied career, from Who's That Knocking At My Door (1967) to the film that finally won him his Oscar, The Departed (2006). Then we have our first ever Syndicated Staff Picks! We've asked our entire staff to name their all-time favorites and the films in week 3 are what they came up with. And last but not least, it's time to revisit the world of our favorite boy wizard, Harry Potter. That's right, we're showing every single Potter film in order 1/23 – 1/29.

Scream Night: Krampus (10:45 PM)
Event Navigation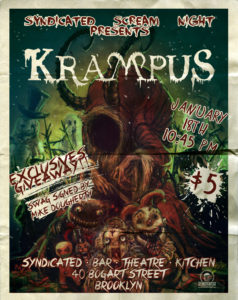 Join hosts Matt Donato and Eric Walkuski as they hold onto the Christmas spirit for one more night! Nothing says "festive" like yuletide terror, so come on out and make sure you don't end up on the naughty list! Those in attendance will have a chance to win 1 of 4 exclusive signed goodies (2 posters, 1 comic, 1 OST), sent directly from writer/director Mike Dougherty himself! Ready for some ho-ho-horror fun?
Ticket Price: $5
Times: 10:45 PM
PG-13 | 1h 38min | 2015
Director: Michael Dougherty
Starring: Adam Scott, Toni Collette, David Koechner
When his dysfunctional family clashes over the holidays, young Max is disillusioned and turns his back on Christmas. Little does he know, this lack of festive spirit has unleashed the wrath of Krampus: a demonic force of ancient evil intent on punishing non-believers. All hell breaks loose as beloved holiday icons take on a monstrous life of their own, laying siege to the fractured family's home and forcing them to fight for each other if they hope to survive.