WHAT'S HAPPENING THIS MONTH
It's 2017! We're kicking off the year with some of our favorite films about artificial intelligence. We may not have flying cars or robot butlers but we have Westworld, replicants and Wall-E. In week 2 we are running a retrospective of Martin Scorsese's long and varied career, from Who's That Knocking At My Door (1967) to the film that finally won him his Oscar, The Departed (2006). Then we have our first ever Syndicated Staff Picks! We've asked our entire staff to name their all-time favorites and the films in week 3 are what they came up with. And last but not least, it's time to revisit the world of our favorite boy wizard, Harry Potter. That's right, we're showing every single Potter film in order 1/23 – 1/29.

Patrick Swayze Film Face Off: Roadhouse vs Point Break (10:15 PM)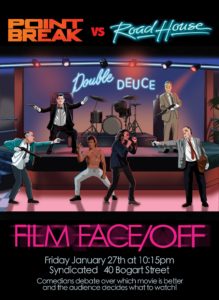 Join us this month at Film Face Off, where we will pit two of Patrick Swayze's classic movies against one another, Road House vs Point Break. Our comedians will debate which movie is better, and the audience will decide which movie to watch!
Ticket Price: $5
Times: 10:15 PM
Road House
R | 1h 54min | 1989
Director: Rowdy Herrington
Starring: Patrick Swayze, Kelly Lynch, Sam Elliott
Road House is a 1989 American action film directed by Rowdy Herrington and starring Patrick Swayze as a bouncer at a newly refurbished roadside bar who protects a small town in Missouri from a corrupt businessman.
Point Break
R | 2h 2min | 1991
Director: Kathryn Bigelow
Starring: Patrick Swayze, Keanu Reeves, Gary Busey
A young FBI agent, Johnny Utah, infiltrates a cunning team of thrill-seeking elite athletes – led by the charismatic Bodhi. The athletes are suspected of carrying out a spate of crimes in extremely unusual ways. Deep undercover, and with his life in imminent danger, Utah strives to prove they are the architects of this string of inconceivable crimes.