Marjorie Prime (4:30 PM, 9:30 PM)
Event Navigation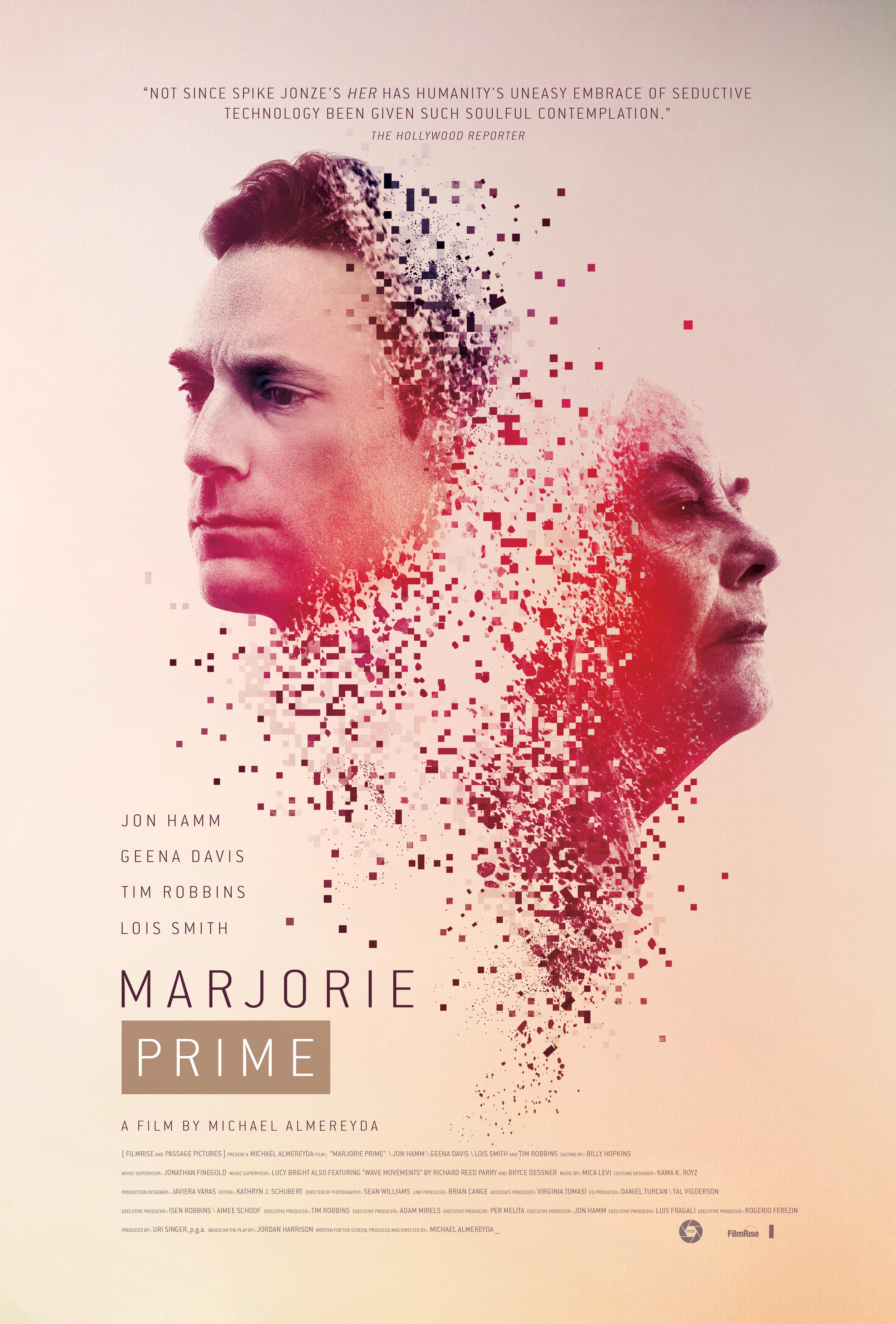 Ticket Price: $7
Times: 4:30 PM, 9:30 PM
NR | 1h 38min | 2017
Director: Michael Almereyda
Written by: Michael Almereyda, Jordan Harrison (based on the play by)
Cinematography: Sean Price Williams
Music by: Mica Levi
Editing: Kathryn J. Schubert
Starring: Jon Hamm, Lois Smith, Geena Davis, Tim Robbins
Alfred P. Sloan Prize – Sundance Film Festival
In the near future, a time of artificial intelligence: 86-year-old Marjorie (veteran actress Lois Smith)- a jumble of disparate, fading memories- has a handsome new companion (Jon Hamm- MAD MEN, BABY DRIVER) who looks like her deceased husband and is programmed to feed the story of her life back to her. What would we remember, and what would we forget, if given the chance? Also starring Academy Award®-winners Geena Davis and Tim Robins, MARJORIE PRIME is based on Jordan Harrison's Pulitzer-Nominated play, exploring memory and identity, love and loss.
"Not since Spike Jonze's 'Her' has humanity's uneasy embrace of seductive technology been given such soulful contemplation." – The Hollywood Reporter
"Marjorie Prime is both a sophisticated chamber of drama and a captivating contemplation of time, memory and mortality." – Screen Daily
"Could double as the best-written episode of 'Black Mirror' yet." – The Film Stage
Calling all filmmakers! Want to see your short on the big screen before our regular programmed shows? We are also now accepting applications to Syndicated Shorts. Conceived to be a seasonal selection of exceptional shorts to compliment our regular programming, Syndicated Shorts is looking for original work under 10 min. long to add to our monthly calendars. Syndicated Shorts proudly accepts entries via FilmFreeway.com, the world's best online submission platform. Click below to submit.