WHAT'S HAPPENING THIS MONTH
It's 2017! We're kicking off the year with some of our favorite films about artificial intelligence. We may not have flying cars or robot butlers but we have Westworld, replicants and Wall-E. In week 2 we are running a retrospective of Martin Scorsese's long and varied career, from Who's That Knocking At My Door (1967) to the film that finally won him his Oscar, The Departed (2006). Then we have our first ever Syndicated Staff Picks! We've asked our entire staff to name their all-time favorites and the films in week 3 are what they came up with. And last but not least, it's time to revisit the world of our favorite boy wizard, Harry Potter. That's right, we're showing every single Potter film in order 1/23 – 1/29.

Her (7:55 PM)
Event Navigation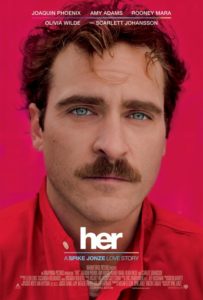 Ticket Price: $3
Times: 7:55 PM
R | 2h 6min | 2013
Director: Spike Jonze
Starring: Joaquin Phoenix, Amy Adams, Scarlett Johansson
Set in the Los Angeles of the slight future, the story follows Theodore Twombly, a complex, soulful man who makes his living writing touching, personal letters for other people. Heartbroken after the end of a long relationship, he becomes intrigued with a new, advanced operating system, which promises to be an intuitive entity in its own right, individual to each user. Upon initiating it, he is delighted to meet "Samantha," a bright, female voice, who is insightful, sensitive and surprisingly funny. As her needs and desires grow, in tandem with his own, their friendship deepens into an eventual love for each other.