WHAT'S HAPPENING THIS MONTH
It's 2017! We're kicking off the year with some of our favorite films about artificial intelligence. We may not have flying cars or robot butlers but we have Westworld, replicants and Wall-E. In week 2 we are running a retrospective of Martin Scorsese's long and varied career, from Who's That Knocking At My Door (1967) to the film that finally won him his Oscar, The Departed (2006). Then we have our first ever Syndicated Staff Picks! We've asked our entire staff to name their all-time favorites and the films in week 3 are what they came up with. And last but not least, it's time to revisit the world of our favorite boy wizard, Harry Potter. That's right, we're showing every single Potter film in order 1/23 – 1/29.

Ex Machina (7:00 PM, 9:30 PM)
Event Navigation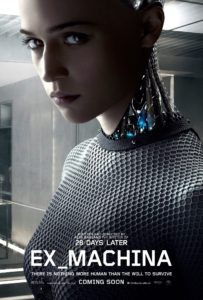 Ticket Price: $3
Times: 7:00 PM, 9:30 PM
R | 1h 48min | 2015
Director: Alex Garland
Starring: Alicia Vikander, Domhnall Gleeson, Oscar Isaac
Caleb Smith (Domhnall Gleeson) a programmer at a huge Internet company, wins a contest that enables him to spend a week at the private estate of Nathan Bateman (Oscar Isaac), his firm's brilliant CEO. When he arrives, Caleb learns that he has been chosen to be the human component in a Turing test to determine the capabilities and consciousness of Ava (Alicia Vikander), a beautiful robot. However, it soon becomes evident that Ava is far more self-aware and deceptive than either man imagined.