Columbus (4:30 PM, 7:00 PM)
Event Navigation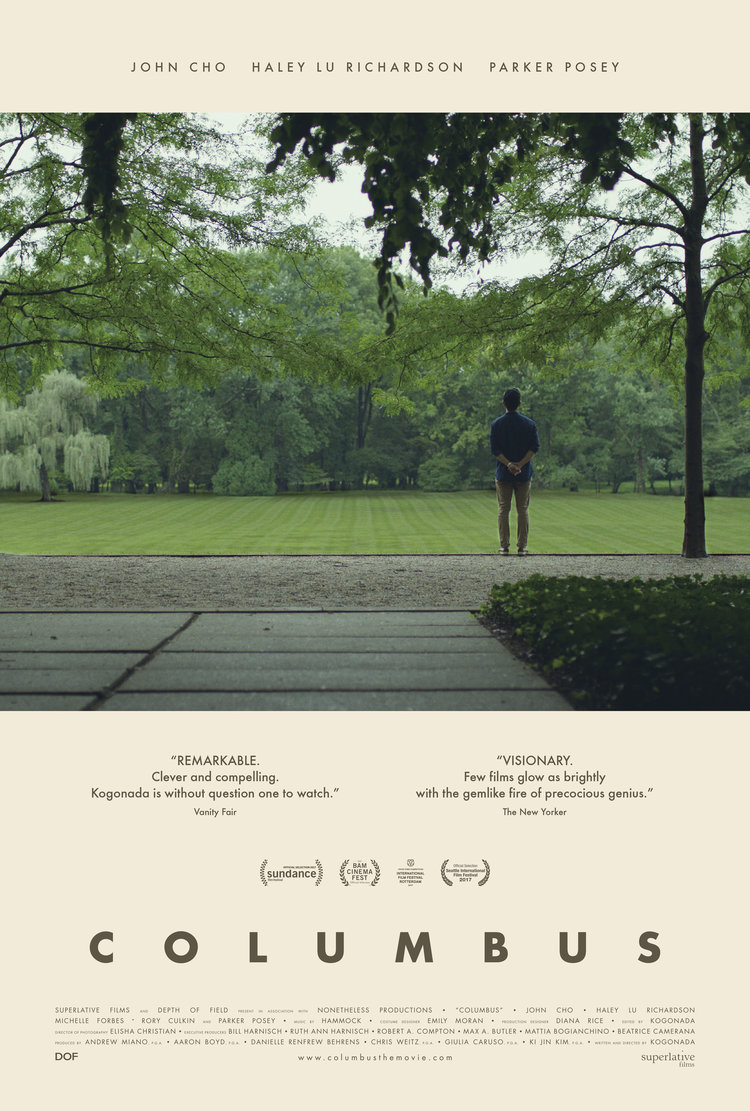 Ticket Price: $7
Times: 4:30 PM, 7:00 PM
NR | 1h 40min | 2017
Director: Kogonada
Written by: Kogonada
Cinematography: Elisha Christian
Music by: Hammock
Starring: John Cho, Haley Lu Richardson, Parker Posey, Michelle Forbes, Rory Culkin
When a renowned architecture scholar falls suddenly ill during a speaking tour, his son Jin finds himself stranded in Columbus, Ind., a small Midwestern city celebrated for its many significant modernist buildings. Jin strikes up a friendship with Casey, a young architecture enthusiast who works at the local library. As their intimacy develops, Jin and Casey explore both the town and their own conflicted emotions.
"Visionary. Few films glow as brightly with the gemlike fire or precocious genius." – The New Yorker
"A pleasantly eccentric film." – Los Angeles Times
"Kogonada is without question one to watch." – Variety Fair
"An assured and hypnotic debut." – Variety
Calling all filmmakers! Want to see your short on the big screen before our regular programmed shows? We are also now accepting applications to Syndicated Shorts. Conceived to be a seasonal selection of exceptional shorts to compliment our regular programming, Syndicated Shorts is looking for original work under 10 min. long to add to our monthly calendars. Syndicated Shorts proudly accepts entries via FilmFreeway.com, the world's best online submission platform. Click below to submit.