WHAT'S HAPPENING THIS MONTH
It's 2017! We're kicking off the year with some of our favorite films about artificial intelligence. We may not have flying cars or robot butlers but we have Westworld, replicants and Wall-E. In week 2 we are running a retrospective of Martin Scorsese's long and varied career, from Who's That Knocking At My Door (1967) to the film that finally won him his Oscar, The Departed (2006). Then we have our first ever Syndicated Staff Picks! We've asked our entire staff to name their all-time favorites and the films in week 3 are what they came up with. And last but not least, it's time to revisit the world of our favorite boy wizard, Harry Potter. That's right, we're showing every single Potter film in order 1/23 – 1/29.

Air Bud (6:00 PM)
Event Navigation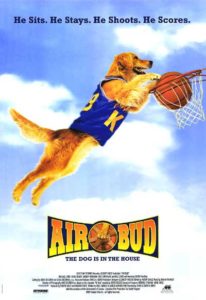 Ticket Price: $3
Times: 6:00 PM
PG | 1h 38min | 1997
Director: Charles Martin Smith
Starring: Michael Jeter, Kevin Zegers, Wendy Makkena
A young boy and a talented stray dog with an amazing basketball playing ability become instant friends. Rebounding from his father's accidental death, 12-year-old Josh Framm moves with his family to the small town of Fernfield, Washington. The new kid in town, Josh has no friends and is too shy to try out for the school basketball team. Instead he prefers to practice alone on an abandoned court, he befriends a runaway golden retriever named Buddy. Josh is amazed when he realizes that Buddy loves basketball…that is playing basketball…and he is GOOD! Josh eventually makes the school team and Buddy is named the Team Mascot. Josh and Buddy become the stars of halftime. Buddy's half-time talent draws media attention. Unfortunately, when Buddy's mean former owner, Norm Snively, comes along with a scheme to cash in on the pup's celebrity, it looks like they are going to be separated.