WHAT'S HAPPENING THIS MONTH
It's 2017! We're kicking off the year with some of our favorite films about artificial intelligence. We may not have flying cars or robot butlers but we have Westworld, replicants and Wall-E. In week 2 we are running a retrospective of Martin Scorsese's long and varied career, from Who's That Knocking At My Door (1967) to the film that finally won him his Oscar, The Departed (2006). Then we have our first ever Syndicated Staff Picks! We've asked our entire staff to name their all-time favorites and the films in week 3 are what they came up with. And last but not least, it's time to revisit the world of our favorite boy wizard, Harry Potter. That's right, we're showing every single Potter film in order 1/23 – 1/29.

2001: A Space Odyssey (1:00 PM, 6:00 PM)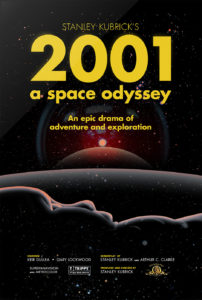 Ticket Price: $3
Times: 1:00 PM, 6:00 PM
G | 2h 29min | 1968
Director: Stanley Kubrick
Starring: Keir Dullea, Gary Lockwood, William Sylvester
An imposing black structure provides a connection between the past and the future in this enigmatic adaptation of a short story by revered sci-fi author Arthur C. Clarke. When Dr. Dave Bowman (Keir Dullea) and other astronauts are sent on a mysterious mission, their ship's computer system, HAL, begins to display increasingly strange behavior, leading up to a tense showdown between man and machine that results in a mind-bending trek through space and time.